Genus: Protohadros HEAD, 1998
Etymology: Greek, proto, "first", and Greek, hadros, "sturdy", indicating the phylogenetic status of the type species.

Species: byrdi HEAD, 1998
Etymology: In honor of Gary Byrd, discoverer of the specimen, for his generosity and assistance in the excavation and analysis of SMU 74582 as well as his continuing contributions to the paleontology of the Woodbine Formation.

Holotype: SMU 74582

Locality: SMU 303, Flower Mound (33.02 N; 97.04 W), north of Fort Worth-Dallas international airport, Denton county, Texas.
Note: exact location on file at SMU.

Horizon: Woodbine Formation.

Biostratigraphy:

Age: Middle-Cenomanian Stage, Uppermiddle Gallic Subepoch, Lower Gulf Epoch, Middle Cretaceous.

Material: Nearly complete skull and isolated postrcania.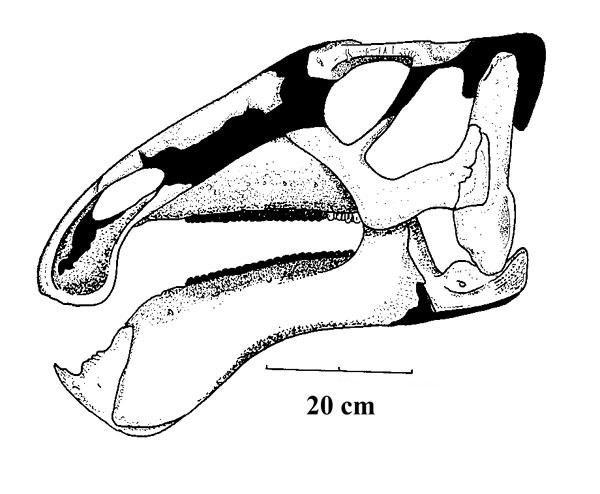 Referred material:
SMU 74638: Maxillary tooth morph.

SMU 73571: Dentary tooth morph.

NOTO, MAIN, & DRUMHELLER, 2012

Locality: Arlington Archosaur Site, Arlington, Tarrent County, Texas.

Horizon: Woodbine Formation.

Biostratigraphy:

Age: Cenomanian Stage, upper Gallic subepoch, Lower Gulf Epoch, Middle Cretaceous.

Material:

UTA-AASO-125: Fragmentary skeleton of an adult.

Note: Has punture marks from a crocodile, 3 pits, one pit associated with a flake..

UTA-AASO-201: Fragmentary remains of a juvenile.

Note: Has punture marks from a crocodile, 6 pits.

TYKOSKI & FIORILLO, 2007

Locality: Woodbine, near Lake Grapevine, Dallas County, Texas.

Horizon: Woodbine Formation.

Biostratigraphy:

Age: Cenomanian Stage, upper Gallic subepoch, Lower Gulf Epoch, Middle Cretaceous.

Material:

Number: Not given:

_____________________________________________________________________________________